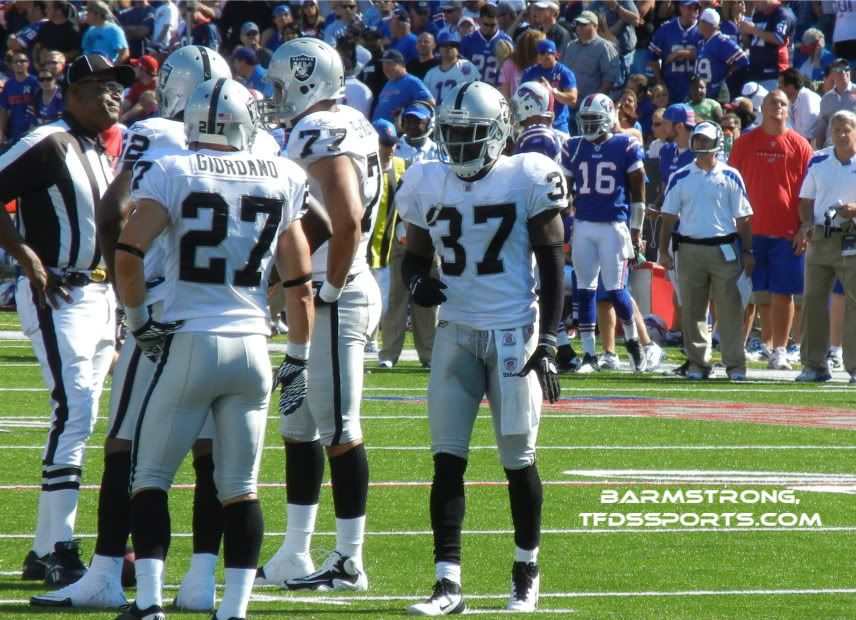 What a difference a week makes. The Raiders go from a dominating defensive win over the Broncos in week one to a complete defensive collapse against the Bills just six days later. It wasn't a game that was without defense by the Raiders, it was a game that started out well and collapsed after the first half.
I keep hearing people say how great that game was. "It was the game of the day" so many NFL analysts keep saying. But that just goes to show you how people don't want to watch games with any defense. What I saw was a football game that more closely resembled an NBA All Star game—all scoring and no defense. And when is the last time anyone said that an NBA All Star game was a great game? Never that I can recall.
Here are you All Star game MVP's and those who were posterized by coast to coast, uncontested Tomahawk dunks.
Ballers
Denarius Moore
Hard to say exactly that his performance in this game was a coming out party for Raider fans or those of us who were lucky enough to watch him in practice. He was making the kind of plays that had Hue saying "Mama, deh dat man again" ad nauseum. This game was Denarius' coming out party to the rest of the football world. Now they all know what we had already become aware of—this boy's good.
He was getting start due to the absence of Darrius Heyward-Bey and Jacoby Ford and he showed up big time. He led all receivers with 5 catches for 146 yards. He even had a run for 25 yards. He got the Raiders' offense started with the first play of the second quarter. He had a jump ball that he wrestled away from the defender ala Jacoby Ford that went for 20 yards on third down. It was the longest play on a drive that resulted in the Raiders' first touchdown.
Later in the second quarter Jason Campbell hit him along the sideline for a 42 yard gain. Two plays later the Raiders scored their third TD of the day to go into halftime up 21-3.
To start the Raiders' first drive of the fourth quarter, he reached behind him with one hand to pull in a 10 yard pass on a slant that was behind him. Later in that same drive, the Raiders ran an end around double reverse that he took for 25 yards into the redzone. They scored a touchdown a few plays later.
And just when you thought he had shown us enough, he goes deep down the middle in double coverage to pull down an amazing 50 yard touchdown catch. It was probably the greatest catch by a Raider since Ronald Curry's one handed catch in the snow in Denver so many years ago. It was the type of touchdown grab we had seen him pull down several times in training camp. And doing in this game put an exclamation point on his big day. Maybe DHB can take a bit more time to recover from his injury. No need to rush. Take your time.
Jason Campbell
He continues to show us just what he is capable of accomplishing with a little time in a system. This week his stats more closely depicted the kind of day he had. 23 of 33, 323 yard passing, 3 touchdowns (one rushing). His lone interception came on his hail mary attempt at the end of the game. He executed screen passes and play action to perfection. Those are the areas in which he has been known to excel. In this game he aired it out more and had great success in it. And while the same can't be said for this entire Raider team, Campbell played a complete game.
Jared Veldheer, Stefen Wisniewski, Samson Satele
There have been several instances from the start of preseason to now that I have lauded the performances of these three. The left side of this Raiders line has been playing great football for a while. Gallery has departed and Wiz kid has replaced him and this trio has not missed a beat. While Veldheer has been keeping Campbell's blindside protected, Wiz and Satele have been plowing away road blocks for Raider runners to shoot through. Veldheer also added some nice run blocks to his repertoire in this game.
On the first Raider scoring drive, Veldheer blocked for McFadden on two nice runs, the first block was with the Raiders in 4th and one. Wiz had a block on that drive as well. Then he and Satele both came off the line to block for McFadden on a 16 yard screen play two drives later. Satele would also block for Michael Bush to pick up 22 yards on a run that put the Raiders in first and goal at the one yard line. Campbell then snuck in behind them for a touchdown on the next play to go up 21-3. The rest of the day continued this way and none of them gave up so much as pressure on Campbell.
Stanford Routt
While the defense was crumbling around him, Routt was a bright spot. He didn't give up a catch in the first quarter. He had one ball thrown at his receiver and he had tight coverage for an incompletion. He started off the second quarter with a nice interception to put the Raiders at the Bills' 34 yard line where they would drive in for their second touchdown of the day. He would give up 3 catches in this game for a total of 31 yards and he made the tackle on all three of those catches.
Derek Hagan
Everyone seemed to be in an uproar over him being inactive for last week's game. I saw the logic behind it from the Raider's perspective at the time. They had six healthy receivers and Hagan is low man on the totem pole because Nick Miller returns kicks (well, sort of). But he showed in this game why so many people wanted to see him on the field over some perhaps less deserving starters. And with injuries to two of their 'top' receivers, Hagan would get his shot. After the Routt interception, Hagan had a 16 yard catch on the first play of the series. It was the longest play on the drive that ended in a touchdown and a 14-0 Raider lead. To begin the fourth quarter, he caught a 25 yard pass and two plays later, an 8 yard pass. The 25 yarder was the longest play of the drive that resulted in the Raiders' fourth TD of the day to retake the lead. He finished the game with 5 catches for 61 yards.
Busters
Chris Johnson
This was quite possibly the worst game of Chris Johnson's career. He gave up 7 catches for 86 yards in this game. He also had 3 penalties for 35 yards. Between in catches given up and penalties, he surrendered 9 first downs, including the 9 yard catch on fourth and 3 that would have given the Raiders the win. He gave up a 19 yard catch and an 8 yard first down catch on the Bills' first scoring drive. He had a 17 yard pass interference penalty of the Bills' second scoring drive. He was blocked on a 12 yard run and gave up a 9 yard catch on the Bills' third scoring drive. He gave up a 13 yard catch and a 10 yard catch to put the Bills at first and goal at the one yard line on their fourth scoring drive which completed the comeback and gave them their first lead 24-21. He gave up an 18 yard catch and was called for holding on third and goal at the 8 yard line to keep the Bills fifth scoring drive alive. And on the Bills final, game winning drive he started with a pass interference penalty for 14 yards then gave up the aforementioned nine yard catch on fourth and three but even after all that, he had a chance to be the hero but couldn't hold onto a sure interception in the endzone and the Bills were able to score the game winning touchdown a couple plays later. Truly epic fail. This team misses Nnamdi Asomugha badly.
Rolando McClain
Believe it or not, it was a difficult choice not to put McClain as top Buster for this game. McClain had more mistakes but they were just slightly less costly than Johnson's. But make no mistake, this is was a close one for runner up Buster. Rolando never seemed like he had his heart in this game. Maybe it was the jet lag or something but he just didn't really seem to be with it. Sometimes it looked like he simply didn't care. This game started out for him much like his previous games. He would make a play and then give up a play. First half positives were a tackle for loss, run stuff tackle, and a pass defended. Negative was giving up 4 catches for 30 yards and missing 2 tackles on runs for 46 yards. He along with the rest of the Raider defense played a 'bend but don't break' style of defense in the first half. In the second half, they broke big time.
The Bills got the ball first and on that drive, he was out of position on a 13 yard quarterback scramble. Next play he was blocked on a 7 yard run. Then the next play, he was trailing the run and simply gave up and started jogging before the back was even two steps away from him. The run went for 47 yards and a touchdown. That dogging it is unacceptable from the guy who is supposed to be the leader of this defense. You think you would ever see Ray Lewis or Clay Matthews dogging it like that? Hell no. But I digress.
He was out of position on the first play of the Bills' next possession. And since they all resulted in touchdowns, I will not say "scoring drive" anymore. Next drive he was blocked on a 29 yard run and had an illegal contact penalty that negated a sack. Next drive he had a missed tackle on a 25 yard run. Next drive, which was the final drive of the game, he missed a tackle on a 9 yard run and gave up three catches including the game winning touchdown.
Chuck Bresnahan
McClain may be the quarterback of the defense, but Bresnahan is quite literally the architect of it. The Bills went into the lockeroom at halftime and found the Raiders' weaknesses on defense. Those weaknesses were the coverage of Johnson and McClain mostly. And even after the Bills exploited those weaknesses two, three, and four times, there were no surprises in store. The only change was a switch from man coverage to zone. The switch in coverage was eerily similar to the dreaded prevent defense. And it yielded the same dreaded results. Well before Bills tight end David Nelson had racked up his 10 catches and touchdown on McClain, there should have been some help by the safeties. Most of all though, this defense was just out of synch. Bresnahan is known for being an intense guy but his defense showed an utter lack of intensity in this game. They were also predictable. In the second half it seemed like Bills QB Ryan Fitzpatrick had found the Raiders' defensive playbook laying in the tunnel on his way to the lockeroom. When the defensive line would try to rush the quarterback, they would run it and when they protected from the run, he would have all the time he needed to pick apart the secondary. It was reminiscent of the Patriots and Spygate. Exactly like that in fact. So unless there is some shady activities going on in Buffalo, Bresnahan has some explaining to do of his own.
Nick Miller
He is on this team for one reason and one reason only—as a kick returner. His play in that arena was not too good last week but with the injury to Jacoby Ford, Nick's value actually went up. And in this game, his value took an economic downturn. He had the Raiders starting with a long field ahead of them every single time. Not once did he make it past the twenty yard line. He averaged the 15 yard line on four kickoffs. The last kickoff he fielded he slipped down and for some reason had a lot of difficulty getting up and made it to the 12 yard line. He had two punt returns in the game; one for six yards and the other for 12 yards. Not exactly the kind of play the Raiders need from their return man.
Matt Giordano
Even in limited action in this game, he still proved to be a liability. He missed a tackle that resulted in a 34 yard run in the first quarter, missed a tackle on a 43 yard touchdown run and missed a tackle on an 18 yard catch in the third quarter, was blocked on an 11 yard run out of the wildcat, and gave up an 18 yard catch in the fourth quarter. So after a good opening game of the season, we begin to see why he was waived in the first place.
Tommy Kelly, Lamarr Houston
Richard Seymour was clearly still ailing from the injury he suffered last week. I am not using that as an excuse as to why he is not a Buster. Seymour was able to make a few nice plays in this game. I am mentioning his injury because without Seymour at his best, he was unable to make up for the poor performances by his line mates. Both Kelly and Houston each had just one solo tackle in this game. The Bills offense was opening gaping holes in the Raider defensive line on runs and Fitzpatrick had all day to throw on passing downs. Neither Kelly or Houston offered any real pressure on the quarterback and the Bills racked up 217 yards on the ground due in part to the running start the backs had once they reached the line of scrimmage.
Follow me on Twitter @LeviDamien or befriend me on Facebook.