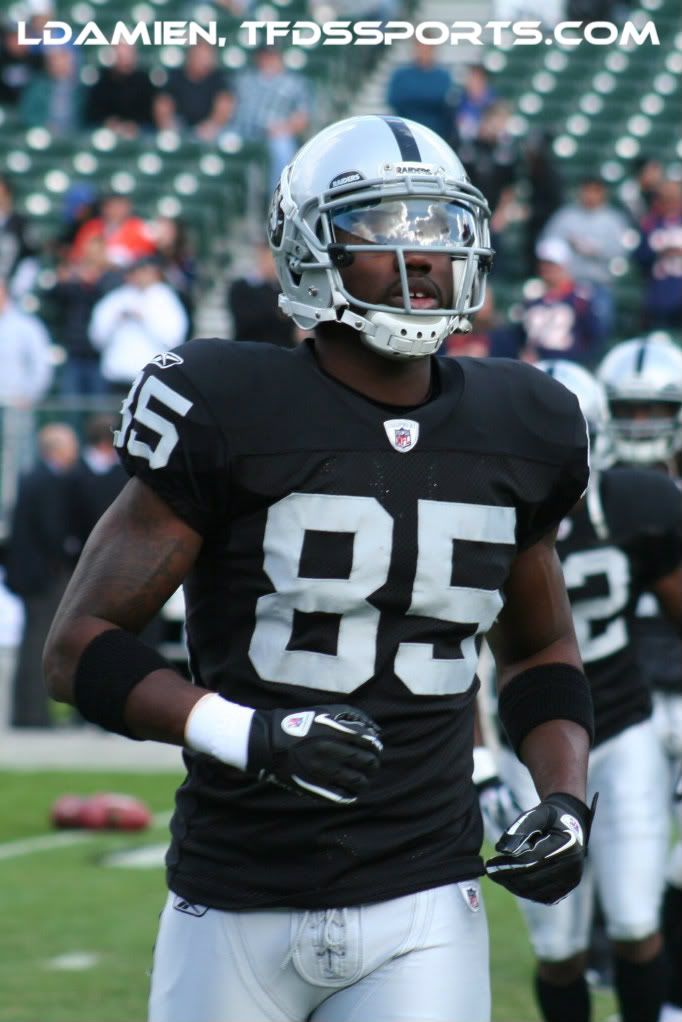 The Raiders went into Miami in first place in the AFC West. They left Miami with a terrible loss at the hands of the last place Dolphins. The Dolphins showed a resiliency that does not exist with the Raiders. At least not yet. They have bounced back from an 0-7 start while the Raiders continue to be inconsistent.
The easiest excuse for the Raiders stinking it up on Sunday is their injury woes. Many of their best offensive weapons were out. Their leading rusher early in the season, Darren McFadden, is out along with Carson Palmer's two favorite targets, Denarius Moore and Jacoby Ford. Sure those injuries may have contributed, but you can't say they were the reason for this loss.
The Raiders had their issues in this game from top to bottom—even in areas in which they are fully healthy. So we step away from the injury report to talk of those who did take the field that ugly day in Miami.
Ballers
Darrius Heyward-Bey
Last week it was Aaron Curry who shocked me by being Top Baller. This week it's DHB. The Raiders needed a boost from him with Ford and Moore out and they got it. Equally as impressive was the manner in which he was catching the ball. DHB has never consistently showed the ability to catch with his hands but on Sunday nearly every catch he made, and even a few that were ruled out of bounds, were great hands catches, the likes of which we have rarely seen from him. His second catch of the game was one such catch. In third and ten with the Raiders down 6-0, he stretched out along the sideline to catch a 14 yard pass and tap his toes to give the Raiders just their second first down of the day. A couple plays later, he had a 22 yard catch that was negated by a holding call. A few plays later, he had a great effort on another sideline grab that was just a bit too far for him to keep his feet in—but he still caught it. A couple drives later, he had another catch negated by a holding call. Then on the final offensive play of the game for the Raiders, he had a fantastic one handed back-shoulder grab for a touchdown. He showed great concentration as well as showcased some of the work he has been putting in to become a more complete receiver.
John Henderson
Big John played quite a bit in this game, especially with the ejection of Richard Seymour. But even before that, Seymour has had some lingering injury issues and Henderson has gotten a lot of playing time as a result. Henderson may not be the player he once was, but in small doses the former Pro Bowl defensive tackle can be just as dominant as we knew him to be in his heyday. Even though he was in and out of the game, he was still second on the team in tackles (6-1). He was also getting good pressure on quarterback Matt Moore. On the Dolphins' second drive of the game, he started it off with a run stuff, then he broke into the backfield to get pressure on Moore to force an incompletion and even got a good shot on him. He had one more run tackle on the drive as well. After the Dolphins took the opening kickoff of the second half back and scored in three plays, Henderson was back in the game to start their next drive. And again, he started things off with a run stuff and added another one a few plays later. On the next play, he made the tackle on a four yard run but was injured on the play and had to leave the game. Then Richard Seymour was ejected two plays later which meant that Henderson would be needed back on the field whether he was 100% or not. He would return and have one more run stuffing tackle for no gain in the fourth quarter.
Chaz Schilens
Led the team in receiving with six catches for 89 yards. He would get much more credit for this accomplishment but one of those catches was short of the first down on third down and two others came with the game already out of hand at 34-0. He had three other catches in the game. One of those catches was a 30 yard grab that put the Raiders in scoring position although they were unable to convert due to some penalties and poor offensive line play which backed them up and out of field goal range.
Busters
Khalif Barnes
Barnes has played quite well this season. But for some reason the Dolphins rattled him in this game and he was back to the Khalif Barnes we were used to seeing the last couple seasons. He was an absolute disaster out there on Sunday. Cameron Wake was a handful for him, but Wake was just one of the Miami defenders who gave Barnes fits.
The Raiders got a first down for the first time on their third drive. No sooner did that drive pick up steam but Barnes killed it. After the second first down, Barnes gave up a pressure on Carson Palmer which forced him to try and throw the ball away to avoid the sack. He was called for intentional grounding and it was now second and 20. The next play, Palmer threw a strike to Darrius Heyward-Bey for 22 yards and a first down. But wait, Barnes held his man. No play. Now second and 30. Then the call was a run up the middle hoping to catch the Dolphins playing the long pass. But Barnes couldn't block his man and Bush was stuffed for a one yard gain.
The Raiders were unable to launch a drive again until late in the second quarter. And when they did, Barnes was there to f—k it up again. Two long connections from Palmer to Schilens had the Raiders in scoring position at the 37 yard line. The next play Palmer hooked up with DHB for 14 yards. But not so fast, Barnes was called for holding… again. Two plays later, Palmer was sacked to set up third and 27. Palmer would not be given a chance to find an open man as Barnes was once again blown up and allowed pressure on his QB to force an incomplete pass. Threat over, Raiders still scoreless.
Stephon Heyer would replace Barnes in the third quarter. But Barnes would be back a bit later just in time to commit a false start penalty. You can consider that a dingleberry from the turd he left on the field in Miami.
Chuck Bresnahan
Are the defenses in the UFL allowed to have 12 men on the field when the offense is only allowed 11? I ask because I can't imagine any other way that the plays Bresnahan calls would actually work. When the opposing offense is most desperate, the Raiders always seem to be one man short of stopping them. The quarterback scramble continues to be the bane of this team's existence. The same situation plays itself out time and time again like déjà vu. The offense is in third and long and Bresnahan calls for a hat on a hat—man defense across the board with the safeties playing deep and intermediate and the linebackers on the running backs and tight ends. Then the quarterback searches half-heartedly for an open man just long enough for his receivers to pull the defenders away from the line of scrimmage and his offensive line to open up a hole in the middle. At which point, he tucks it and runs for the first down.
Now I am not a coach. I don't pretend to have all the answers. But it doesn't take a great football mind to see that this plan is not working—at all. The Raiders were victimized twice in this game. They happened on successive plays. The first time, the Raiders caught a break as Moore scrambled 13 yards to the six yard line but it was called back by a holding penalty. On the next play, Moore scrambled to pick up 14 yards to set up an easy 33 yard field goal.
The scrambles are only a fraction of the problem. This was a complete defensive collapse. As usual, there is little in the way of discipline. Players look confused as to their assignments and that probably has a lot to do with the play calling not meshing with what their instincts are telling them. When safeties are not guarding against the run in short yardage at the goal line, that is a problem. When a linebacker is covering speedy wide receiver Devone Bess, that is a problem. The Dolphins exploited these weak areas all day. There were also no adjustments by the Raiders in the second half. The Dolphins certainly had some. The result was 21 points in the third quarter to put this game away before the fourth quarter even began.
Rolando McClain
With Chuck Bresnahan, I talked about discipline. This is a quality which McClain is utterly lacking. He was away from the team all week to attend a funeral for his grandfather. While being without their middle linebacker all week in practice was not the best thing, his getting arrested on Wednesday was just about the worst thing.
There was a lot of talk this week about this incident being a distraction. Well, perhaps it was, but that is not really the primary issue as I see it. It was his behavior that led to his arrest and that same behavior that has this defense lacking direction. As the middle linebacker, he is supposed to be the leader. The best middle linebackers in this league have their teammates' trust and it builds a confidence in them. They also lead by example. Personally, McClain had a decent game on Sunday. But his performance as the quarterback of this defense cannot be judged solely by personal statistics. He is responsible for the play of his defensive teammates, but he can't even be responsible enough to go home for a few days and not do something stupid. He is evasive, complacent, immature, and irresponsible–four qualities that are detrimental in a middle linebacker. The play of his teammates is a reflection of that.
Richard Seymour
Speaking of discipline, or rather lack of self control, Seymour got ejected Sunday for the second time as a Raider. Last time, he laid a forearm into Ben Roethlisberger in a loss to the Steelers. This time he let Dolphins guard Richie Incognito get under his skin and Seymour got in a little extracurricular jab at his face. It was nothing like the Big Ben punch that had the quarterback on his back, but it was still not smart. The jab got Seymour kicked out of the game just after his backup, John Henderson, had gone out with an injury. The Dolphins had been stopped and would have been in third and 3, but the penalty gave them an automatic first down at the nine yard line. They would score a touchdown two plays later. Seymour gave up the previous touchdown directly when he was blocked easily on the run that allowed Reggie Bush to walk into the endzone untouched. It was his position Bush ran through and Seymour didn't even get a hand on him.
While I talk about the middle linebacker on any team as the leader, Seymour is the player on this team who is supposed to be the actual leader. Silly crap like punching players and getting ejected just won't do. And when you combine Seymour losing his cool with McClain's behavior and Bresnahan's poor play calling, you have a defense that is lost.
Aaron Curry
After enjoying the many fruits that fell from the Caleb Hanie tree last week, Curry was back to fruitless labor this week. On the Dolphins' first touchdown drive, he gave up a 26 yard catch, followed by an 11 yard catch, and finished off the drive by giving up a 13 yard catch for the touchdown. At the end of the second quarter, with the Raiders hoping to get the ball back one more time before the half, he gave up the catch that gave the Dolphins the first down and allowed them to kneel out the remaining seconds. The second half began with a big kick return followed by a pass interference penalty to put the Dolphins at the one yard line. Curry was out of position on the play in which Bush walked into the endzone for an easy TD. On the following drive, he tried to time a blitz and was called for encroachment. The drive ended with another Dolphin touchdown. This put the Dolphins up 27-0 and it was pretty much over at that point.
Mike Mitchell
A defensive feel to the Busters list this week. Mitchell got things started for the poor defensive effort when he gave up the first down on the second play for the Dolphins. He had position and was shaken out of his shoes on a 15 yard run. On their second drive, he gave up a 12 yard catch. The Dolphins scored on both of those first two possessions to set the tone for the game. Later in the first half, he was blocked on a 21 yard run. In the third quarter, he was late getting over and Matt Moore scrambled for a six yard touchdown.
Follow me on Twitter @LeviDamien or befriend me on facebook.