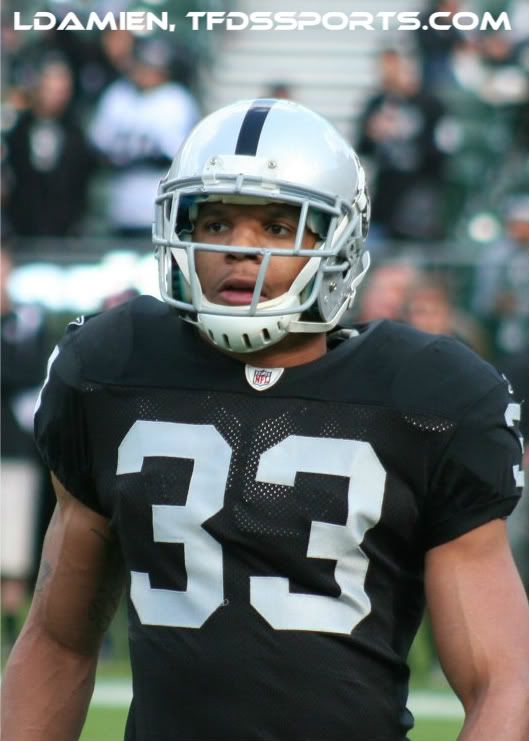 The Raiders went into Minnesota and came out with a firm hold on their AFC West lead. But it didn't come easy. What started out looking like a blowout in the making, finished as a sloppy, penalty laden affair. In the end the Raiders were able to hold on with a 27-21 win over the Vikings.
The story of how the Raiders played in this game was based almost solely on penalties. They had three key roughing penalties on the Vikings' first drive that led to a touchdown and an early seven point deficit. In the second quarter they had almost no penalties and the result was three touchdowns.
In the fourth quarter the penalties were back and the Vikings took advantage with two more touchdowns to come within a score of taking the lead. The penalties were pretty evenly dispersed so it is difficult to point the finger at any one player.
But in a game like this it is actually pretty surprising how many fingers can be pointed at those who played well. In an ugly game such good performances can sometimes get lost in the debris. But nothing escapes B&B as I excavate the diamonds in the rough.
Ballers
Tyvon Branch
This was one of Branch's best games in a while. It is all the more impressive that his day began by giving up a nine yard catch on third and eight and was called for a facemask penalty. After that catch, he was lights out the rest of the day.
Branch was a huge factor in the Raiders scoring two touchdowns to close out the first half. He started off the Vikings' final drive of the half with a tackle on a short catch. A couple plays later he pressured Christian Ponder and forced a dump off that was stopped for a short gain. This set up a third and short and on the next play he shot in to tackle the runner for a loss. Then on the field goal attempt, Branch again flew into the backfield so quickly that the kicker stopped without even trying to kick it and Branch tackled him for a 12 yard loss. It gave the Raiders the ball near midfield as well and they drove it for a second touchdown. The Raiders would score again to head into halftime up 24-7.
In the third quarter, Branch had a pass defended and a few plays later he had another run stuffing tackle for no gain and the drive ended on the next play. He was only tested one time in the passing game the remainder of the game and it was the Vikings' last play. He had tight coverage on the receiver and knocked down the pass to turn the ball over on downs and end the game.
Jared Veldheer
I am going to go out on a limb here and say that Veldheer is possibly the best left tackle in the NFL. Coming into this game, he had given up just one sack all season long, while the man he would line up against was the NFL sack leader and had a sack in eleven straight games. Jared Allen was to be the toughest test yet for Veldheer. But little did anyone expect Veldheer would actually be Allen's toughest test yet. His streak of eleven straight games with a sack ended on Sunday. Veldheer had faced some of the best coming into this game and the third round pick out of little Hillsdale College has now faced THE best and come out victorious. The Raiders may have missed on their can't-miss number two overall pick left tackle, Robert Gallery, but they took a chance in the third round that Veldheer was something special and this time they were absolutely right.
Marcel Reece
The Raiders' X-Factor, multipurpose, mismatch was at it again in this game. When he wasn't blocking to open running lanes, he was taking the ball himself. He was the lead blocker on most of the big runs that Bush picked up on his way to 109 yards and a touchdown. Reece also ran for 45 yards of his own and caught two passes for 16 yards.
His biggest run of the day of 20 yards came in the first quarter and it set up Janikowski for a short field goal. The biggest run from scrimmage for the Raiders was by Bush in the second quarter in which Reece laid a nice block to spring him on a 28 year run. Three plays later, with the Raiders at that 15 yard line, Reece took an inside shovel pass 12 yards to put the Raiders in first and goal. Then he blocked for Bush to plow the final three yards for the touchdown.
Carson Palmer
He didn't get in any record books in this game like he did last week. He didn't approach 300 yards passing; in fact, he had a pedestrian 164 yards. Palmer was just steady and poised to lead the Raiders to a victory. He also threw for a gorgeous touchdown and snuck in for a second. He executes plays to perfection. Something for which I used to appreciate Jason Campbell was the way he would sell fakes and play action. Palmer does that with equal proficiency. Hue Jackson isn't just like a kid in a candy store out there, he looks like he is in Willy Wonka's chocolate factory. While Campbell allowed Jackson and Saunders to draw up countless gadget plays, Palmer can take one of those play action fakes and turn it into a perfect strike 40 yards downfield with ease. Palmer also has a great deal of pocket presence. Several times he was throwing as he leaned back on his heels with a defender in his face and still threw a perfect ball. With him behind center, the Raiders always have a chance to win. And his teammates know it. That kind of confidence goes a long way.
Stefen Wisniewski
Wisniewski will probably not get a lot of love in the Rookie of the Year discussion, but he damn well deserves it. He plays left guard at a Pro Bowl level. Then when Samson Satele goes out injured, he steps in and plays center with proficiency as well. He would do both again in this game. My favorite thing to see is the way he gets downfield ahead of the running back on screens. His first nice play of the day was a screen block on third and eight that went 10 yards. On the following play, he cleared a hole to spring Bush for a nine yard run.
In the second quarter, with the Raiders at the three yard line, they knew just where to send Bush—through left guard. And Wiz kid cleared the way for the touchdown. The Raiders would get the ball back quickly off a turnover, and on two plays, the Raiders were back at the two yard line. The call was a QB sneak and it gained one yard. But Samson Satele went down on the play and came out of the game so Wisniewski slid over to center as he has done so many times before. With Wiz kid in at center they called for a quarterback sneak again for a one yard touchdown, with 10 seconds left on the clock and no timeouts. That is putting a lot of confidence in this rookie. Wisniewski is the final major piece to this newly dominant Raider offensive line. His play cannot be overstated.
Kamerion Wimbley
Wimbley was obviously still riding high after his four sack performance against the Chargers in week ten. While he made Philip Rivers' life a living hell then, he was out to make Adrian Peterson's life miserable this week.
Wimbley got started right away by stopping Peterson on the first two plays of the game–first on a tackle for a short two yard gain, then by holding containment to help stop him again for a short gain. The Vikings' first possession was over on the next play with a three and out.
The next Vikings possession, he came after Peterson again to tackle him for a seven yard loss. The next Vikings' possession, Peterson shot through the line and got 12 yards up field before he was tackled, suffering what was later diagnosed as a high ankle sprain. When he went down on the tackle, he did it with just one shoe. Wimbley had it. Peterson would no longer need it.
On their next drive, Wimbley had a tackle for a short gain and a few plays later got into the backfield on third down to slow up the runner, allowing for a tackle for loss. He had a couple other nice plays in the game as well.
Stanford Routt
He gave Ponder nowhere to throw in this game. The only two passes caught by his receiver he stuffed for minimal gain. In the fourth quarter, when the Vikings were forced to go to the air to try and score points, Routt was the eager beneficiary. With the Vikings at the Raiders' six yard line, he nailed the receiver for one yard on a catch to force third and goal. Then Ponder rolled right and threw for the end zone where Routt intercepted it and tapped both feet inbounds for a touchback. He would also have a pass defended on the Vikings' final drive to preserve the win.
Matt Giordano
He came into this game as the only Raider defender with more than one interception. He got his third this game. It was a big one too. Early in the second quarter the Vikings were in scoring position. Ponder threw for the goal line and Giordano shot over, plucked it out of the air, and returned it to the 47. The Raiders capitalized on the turnover and short field by driving for their first touchdown and a 10-7 lead. Giordano also ended the Vikings' first possession when he tackled the receiver for a four yard gain on third and five.
Brandon Myers
You won't often see Brandon Myers on this list as his playing time has not been excessive of late. But what matters is what he did with his playing time. His first play was a 21 yard leaping catch that had everyone watching saying, "I had no idea he could do that." After all, he is not seen as a receiving tight end so much as he is a blocker. Then on the next play, he showed what he is known for when he blocked to spring Bush for a first down run. A bit later he had his biggest play of the day and the one that earned him a spot on this list. The Raiders had just scored a second touchdown to go up 17-7 with not much time remaining in the first half. On the following kickoff return, Myers nailed the return man to knock the ball out and the Raiders recovered at the Vikings' 16 yard line. They covered the 16 yards in four plays to score their third touchdown and take a 24-7 lead into halftime.
Tommy Kelly
Kelly had quite a day. One might say it was well-rounded. Not all of that was a good thing but most of it was. He started by being out of his gap on a 10 yard scramble. A few plays later, he bulled through his blocker and took down Christian Ponder with one arm, but he was called for a roughing penalty. The refs cited it as a blow to the head but the replay showed otherwise. Since that is not reviewable, the sack became a gain of yards and an automatic first down. On the next drive he was blocked on a 12 yard touchdown run by Adrian Peterson. In the second quarter he was out of position on a 16 yard scramble. In the third quarter he got pressure on the quarterback to flush him from the pocket, where he was sacked. A couple drives later, he was the proud recipient of a tipped pass that he intercepted and returned to the Vikings 24 yard line. It led to a 26 yard field goal. In the fourth quarter he hit the quarterback as he threw for an incompletion, and then on third down on the Vikings' final possession, he sacked Ponder to put them in 4th and 8. The drive, and essentially the game, ended on the next play.
Lito Sheppard
One of the more surprising statistics in this game is Lito leading the Raiders in tackles (6-0). In his brief time with the team, Lito has shown himself to be one of the best tacklers among the Raider cornerbacks. He tackled Adrian Peterson on the second play of the game for a three yard gain and helped send them away with a three and out to start the game. We didn't see anything from Lito for a while after that, which is a good thing for a corner. It means he isn't giving up any catches. Next time we saw Lito, he was shooting in on a corner blitz and sacking Ponder as he tried to escape the pocket. He then ended the Vikings' next drive when he had tight coverage on his receiver to tackle him short of the first down to force a punt. The very next offensive play by the Vikings, Lito defended the pass and tipped it up where Tommy Kelly came down with the interception. It gave the Raiders the ball in scoring position where they kicked a field goal to go up by six points. That was critical because then the Vikings would not be able to tie it up with a field goal. Only a touchdown would do.
Honorable Mention
Desmond Bryant
He got two sacks on the day which one would normally think would make him a Baller for sure. But when that's pretty much your only contribution, it is not so automatic. He does well when he is looking to get pressure but his gap control needs a lot of work. He was victimized a few times for runs. He was also called for a blow to the head of the runner after he was down, though it was a very questionable call. But for the sacks, he at least deserves honorable mention.
Kevin Boss
He led the team in receptions with five catches for 37 yards. He also laid a few nice seal blocks on the edge. The best one freed up Marcel Reece to run for 20 yards and set up the Raiders' first points on a field goal.
Betweener
Michael Bush
Many of you may have been running down this list wondering where Bush was. He had 109 yards and a touchdown so it seems like he should be a Baller for sure. He had one really big run in this game for 28 yards near the end of the first half. He ended that drive with a touchdown from three yards out. He had a total of 30 rushes on the day which gives him a 3.6 yards per carry average. But his low ypc is not what kept him off the Baller list. In fact, he was well on his way until midway through the fourth quarter. With the Raiders up 27-14 and looking to put the game away, he fumbled. The Vikings took over at the Raiders 38 yard line and scored a touchdown in two plays to pull within a score. Then on the Raiders next drive, they had run down the clock to 3:44 and were looking for a fresh set of downs to milk the clock even farther. But on third and four, Bush was brushed aside on his pass blocking assignment to give up the sack on Palmer and end the series. The Raiders would be forced to stop them on defense one more time. That fumble and blown blocking assignment made it impossible for me to name him a Baller. But his work in this game before that was quite admirable.
Busters
Rolando McClain
Maybe McClain should play injured more often. Last week he was limping around the field and had a great game. This week, he looked to be back fully healthy again and was back to the mental lapses for which he has become known. The Vikings' first scoring drive was brutal for McClain. Their first third down, he gave up the catch for a first down. Then to finish off the drive, the Vikings ran Adrian Peterson up the middle from the 13 yard line and McClain was handled easily on the block to give up the touchdown. Next big Adrian Peterson run came on the following drive and again, McClain was blocked on the play. It would be one thing if it were Peterson himself forcing a missed tackle but McClain hadn't even gotten near him. Then McClain didn't have a single tackle for what amounted to more than two quarters of play.
The next time we see him, he is being completely fooled on a fake run to the right that was actually a screen to the left taken for a touchdown. Next Vikings' possession he was out of position on an eight yard run and three plays later called for illegal contact. The next Vikings series started on the Raiders' 38 yard line. Then after a 37 yard catch, McClain was victimized for a one yard touchdown catch. He at least finished well with a pass defended, a tackle for a short gain on a catch, and knocking down the Vikings' lateral attempt to end the game.
Aaron Curry
This whole Buster thing is becoming old hat for Curry. I don't enjoy putting him on this list. I admire anyone who plays with the level of fire and energy as Curry. But while he is flying around, he has a tendency not to use his head much. Well, let me rephrase that: He doesn't use his brain. We saw very early in this game that he definitely uses his head when he was called for a helmet to helmet hit on a defenseless receiver. It is arguable whether the receiver was defenseless but it was definitely helmet to helmet. It went from a nice play to a 15 yard penalty. On that same drive, he was out of position on a 10 yard catch and then he shot the wrong gap on the 13 yard Peterson touchdown run to finish it off.
The next Vikings drive was thanks in part to Curry giving up a 24 yard catch. Then the remainder of the game, he had one quarterback pressure and otherwise was not seen. At this rate, the Raiders will yet again be looking for a weak side linebacker.
Chuck Bresnahan
Something has got to be done about these quarterback scrambles. This is now two of the last three games in which the quarterback led the team in rushing. With Tebow, you can sort of understand. But with Christian Ponder, there is no excuse. He ran five times for 71 yards. This is a blueprint that every team from here on out is going to follow. The Bears will be studying it intently with their backup starting next week. You can bet he will be looking to tuck and run any chance he gets. It has become a proven way to move the ball on the Raiders and without a tweak to the scheme, it WILL bite them again. And yet again (or still), the Raider defense lacks discipline. They are aggressive, there is no doubt about it, but without discipline, you end up with a winnable game turning into a debacle. We almost saw one in Minnesota.
Follow me on Twitter @LeviDamien or befriend me on Facebook.