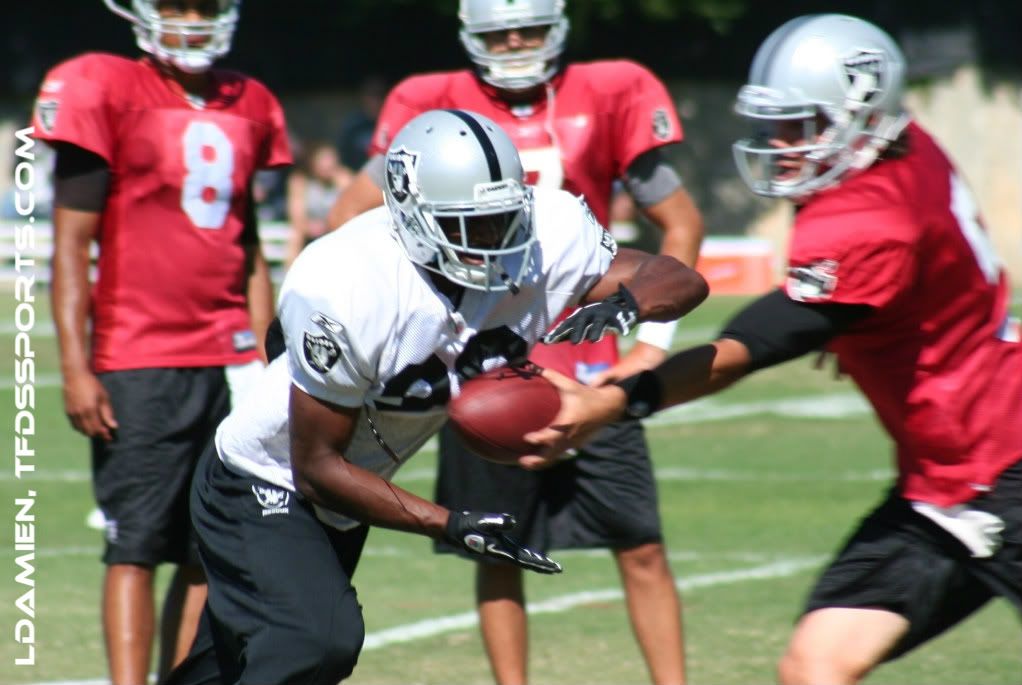 As is always the case, the third preseason game is the first team offense's primer for the regular season. This is supposed to be the game that is the most telling as to what we can expect from the team this year. The story in this game was a sad one, as the Raiders were doubled up by the Saints 40-20. If being the most telling game of the preseason holds true, the Raiders are in big trouble.
They just don't have the personnel necessary to compete. The good news, if you are looking for some, is there were some key injuries affecting this game, Pro Bowl defensive tackle Richard Seymour and starting cornerback Chris Johnson being the two who are the most sorely missed. A few other important pieces missing were DT John Henderson, RB Darren McFadden, safety Mike Mitchell, and top wide receivers Chaz Schilens, Louis Murphy, and Jacoby Ford.
But in Hue Jackson's "next man up" philosophy, that would suggest the Raiders have the talent behind all of these injured players to step up and start in their absence. Let's see how that worked out, shall we?
Ballers
Derek Hagan
Hagan came to the Raiders in the middle of training camp unheralded. He was among a group of newly signed players and was seen initially as a camp body with the Raiders already stocked with receivers. But since day one, he has done nothing but show why he deserves to be on this team. Sunday he took his game to another level. He caught six passes on the day for 121 yards and a touchdown to lead all receivers. That's over 20 yards a catch — and he got most of those yards after the catch.
On the first offensive series, despite not starting, he got the ball twice. The first catch was a 12 yard grab on third down that gave the Raiders a first down to keep the drive alive. Then he had the final catch on the drive. It was the last catch because he stiff juked and stiff armed his defender and took it 35 yards to the house. The next catch he had was also the last of a drive. It went for eight yards, which was just enough to get in field goal range where Sebastian Janikowski hit a 57 yarder.
Next drive, he had a huge 22 yard catch and run to give the Raiders a chance to score just before halftime. Just like before, he shook defenders and broke tackles all the way. When the Raiders came out of the locker room, they had a nice drive going, and the biggest play on the drive was Hagan with an amazing 31 yard catch. The Raiders would score a touchdown two plays later on a 22 yard Taiwan Jones run that was made possible by a fine block from Hagan. The TD would tie the game 17-17.
Hagan also had a 13 yard catch and broke another tackle on the next drive to help set up another Janikowski field goal for a 20-17 Raider lead. Just when you thought his day was done, he made a tackle on a punt return. Playmakers just make plays. That's all there is to it.
Taiwan Jones
Speaking of playmakers… Jones made the Raiders look like geniuses in this game, and a few other teams may need to fire some scouts. As if his blazing speed weren't enough, he has incredible instincts. Just when defenders think he is going to simply try to outrun them, he changes field and completely fools them. He executes cutback runs to perfection and goes between tackles as well as he takes the edge. His hands out of the backfield are equally impressive. He runs through swing passes and passes in the flat, which has him at near full speed before he even gets the ball in his hands. This is the equivalent of a receiver being hit in stride on a slant pattern. With his speed, the defender is hard pressed to catch him at full speed. The result was 99 yards of offense on 13 carries and two catches with a 6.2 yards per carry average.
He came in the game in the second quarter and was responsible for 28 yards of the 43 as the Raiders moved down field to set up their first field goal. Jones might have had more, but a big catch he had was negated by a penalty. The next drive he was given the ball on all but one play, the last of which was a 22 yard run for a touchdown to tie the game at 17. Then to start the fourth quarter, he finished his day with an 18 yard catch and run followed by a 12 yard cutback run. It was quite a debut for the local kid who had 30 friends and family in attendance to see his first ever NFL game.
Rolando McClain
This was one of the best games I have seen him play, believe it or not. He got things started on the second play of the game with a pass defended. Then he started the next drive with a run stuff at the line for no gain. He had another nice run tackle a few plays later and followed it up with a second pass defended when he hit the receiver as he caught it to knock the ball loose. Next drive he came flying in on a disguised blitz to pressure Drew Brees and force an incompletion. Two plays later, he tackled on a catch that was short of the first down. It would have been a punt but Jarvis Moss was called for being offsides. McClain would take the field for one more series that resulted in a three and out and he was done for the day.
First team Offensive Line
I give them all the credit for their work in this game. Last week Hue Jackson said that the offensive line was the weakest part of this team but he had his mind changed in this game and struck an entirely different tune in the post game press conference. The line protected Jason Campbell superbly and opened some nice holes for Michael Bush to run through. Stefen Wisniewski, Cooper Carlisle, and Samson Satele all had great run blocks on the Raiders' opening drive for a touchdown. Campbell also had plenty of time to work thanks to the protection from Jared Veldheer and Khalif Barnes. The one hiccup was Wisniewski being called for holding in the second quarter, but with that being the only real mistake, that is pretty good. Especially considering the line's play in the first two games.
Michael Bush
If you thought Taiwan Jones' stats were impressive, consider that Bush had an even higher yards per carry and he was going against the starting Saints defense the entire time. He was given just five carries for 32 yards — all of which came on the Raiders' first drive that resulted in a touchdown. That gave him a 6.4 ypc (Jones had a 6.2). Bush also had two catches for 24 yards. He proved that he can be the primary back when he needs to be. Darren McFadden will be back by the season opener but even if he does go down with another injury this season, the Raiders are in good hands with Bush.
Sebastian Janikowski, Shane Lechler
This game was televised nationally (except in Oakland) as the NBC Sunday Night game. That allowed the rest of the country to see just how the Raiders have the two most powerful legs in the NFL. Janikowski got things started when he had one of his trademark kickoffs through the uprights. Then after the Raiders' next possession, Lechler dialed up a 51 yard skyscraper that had a return of just two yards. Not to be outdone, to end the Raiders' next drive, Janikowski lined up and nailed a 57 yard field goal like he could do it in his sleep. Before Lechler would get a chance to show off his stuff again, Janikowski put another field goal through, this time from 39 yards out. But Lechler would get the last memory as he laid into a punt that sailed 64 yards with a 12 yard return. No troubles in this area to be certain.
Busters
The entire secondary
To be fair, I must begin by excluding Stanford Routt and Sterling Moore from this. They both had pretty decent games. Not Baller worthy but certainly enough to keep them off the Buster list. The others gave performances not worthy of NFL players. Best we just go through this chronologically.
Demarcus Van Dyke was the first to disgrace us with his performance. The Saints' opening drive went 80 yards for a touchdown and 73 of those yards were given up by Van Dyke. Brees went after him on the first play and did not stop until they were at the one yard line. DVD gave up 37 yards on the first play from scrimmage on a long ball down the sideline in which he never turned around. That catch looked like a replay of the Arizona game. Then he gave up a 17 yarder, a 16 yarder, and finished it off with a 6 yarder to put the Saints on the one yard line.
Next drive Brees decided he actually wanted to look for a challenge so he tried out Michael Huff and Tyvon Branch. The results were similar. Huff gave up a 23 yard catch and two plays later a 5 yard catch with McClain bailing him out. Next it was Branch who didn't come over to help out Routt high and Brees put it right between the two defenders for a 23 yard gain. Routt gave up the final catch of nine yards to put the Saints at the one yard line again where they promptly punched it in for their second TD to start the game.
The next drive, Huff gave up another catch of 19 yards. A few plays later, Jerome Boyd gave up a 19 yard catch on third down to keep the drive alive. Boyd would finish the drive with good coverage on an incompletion to force them to go for a field goal. That would be Brees' final play of the game. On the next Saints possession, with backup Chase Daniel in at quarterback, Branch gave up a 21 yard catch.
The third quarter was time for the backups to enter the game. This meant Walter McFadden and Chimdi Chekwa, as Jeremy Ware had gone out in the first half with an ankle sprain. The first pass McFadden saw his way was a zero route that had him standing right in front of the receiver in position to make the tackle. The receiver looked right at him and simply ran around him for six yards and a first down. Two plays later, safety Josh Bullocks gave up a short catch for a touchdown.
The next drive was a nightmare for this group. Chimdi Chekwa started it off giving up an eight yard catch, then Joe Porter gave up a four yard catch for the first down. Next play McFadden blew his cover leaving his receiver wide open. Then both Chekwa and Bullocks missed tackles as he ran for 60 yards on the play. Chekwa nearly gave up a TD on the next play, as his man had him beat, but the throw was wide and out of bounds. Not to worry, two plays later McFadden made up for it by giving up an 18 yard catch to the two yard line. Sterling Moore knocked down a short pass attempt from there which forced the Saints to run it in for the touchdown.
The next Saints possession started with a short field after Trent Edwards fumbled the snap away. They scored on one play. Joe Porter was beaten and looking for help up high from Chekwa and that help never came, resulting in a 39 yard touchdown. The damage was done, but just for good measure, Porter gave up an 11 yard catch and missed a tackle on a ten yard run to allow the Saints to kneel out the clock.
The final numbers were 25 of 43 for 391 yards and 2 TD's passing. Brees was 15 of 23 for 189 yards. Daniel was 9 of 18 for 191 yards, 2 touchdowns, no interceptions, and a 125.0 QB rating. Nine Saints players had at least two catches.
This team is missing Nnamdi Asomugha something fierce. At this point, they are missing Chris Johnson a great deal as well. Even the newly acquired Lito Sheppard would be a breath of fresh air.
Darrius Heyward-Bey
Still the starting receiver on this team and still not playing like he is worthy of even a roster spot, Heyward-Bey saw just two passes on the day. One was a drop and the other was a long ball attempt that he, of course, couldn't catch. The team gave Derek Hagan some first team snaps on the very first drive and Hagan had two catches on that drive for 47 yards and a touchdown. DHB, that is what a wide receiver looks like.

Follow Levi on Twitter @LeviDamien or befriend him on Facebook.